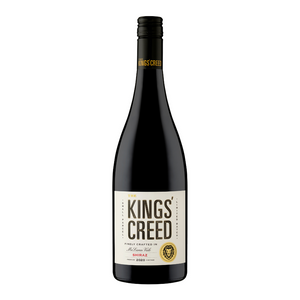 The Kings' Creed McLaren Vale Shiraz 2020
At Kings' Creed we live by our creed to craft small batch wines of quality with bold character.
Fermented in traditional open fermenters, and following pressing, finished their fermentation in oak; approximately 80% was French and the balance American, 35% of which was new oak. Vineyard parcels were kept separate during fermentation and maturation and were blended three months prior to bottling.

Generosity only begins to describe this McLaren Vale Shiraz – rich, ripe red fruits of raspberries and cherries meld with aromas of black pepper and spices. Velvet in texture, this a wine that brings people together for any and every moment.
We dedicate this wine to those who rule their approach to life, having strength of character to stand bravely behind their creed, no matter the road in front of them
Regular price
$149.00
per 6 pack
It's super easy to drink, feels like it brings a touch of class. Fairly priced, if not punching above its weight.
Mike Bennie